The two tuning procedures (Production and Simplified methods) provided by Sequential Circuits in the Rev 2 service manual are complex, easily misinterpreted, and abstract – if you don't have an intuitive sense of what you are doing, it's hard to tell when you are not doing something right. It's easy to miss a step or to do it wrong without noticing, and then the whole procedure fails.
Here I describe a method that is more similar to the standard procedure of analog poly synth tuning. I'm sure there are techs out there that don't have a problem with SCI's original Simplified method (attached at the end of this document), but if you are not doing this more than once a year or so, you are likely to forget something and go wrong. At least I am.
What you need
Guitar-type tuner, or any type of tuner that you are comfortable with
Small Screw driver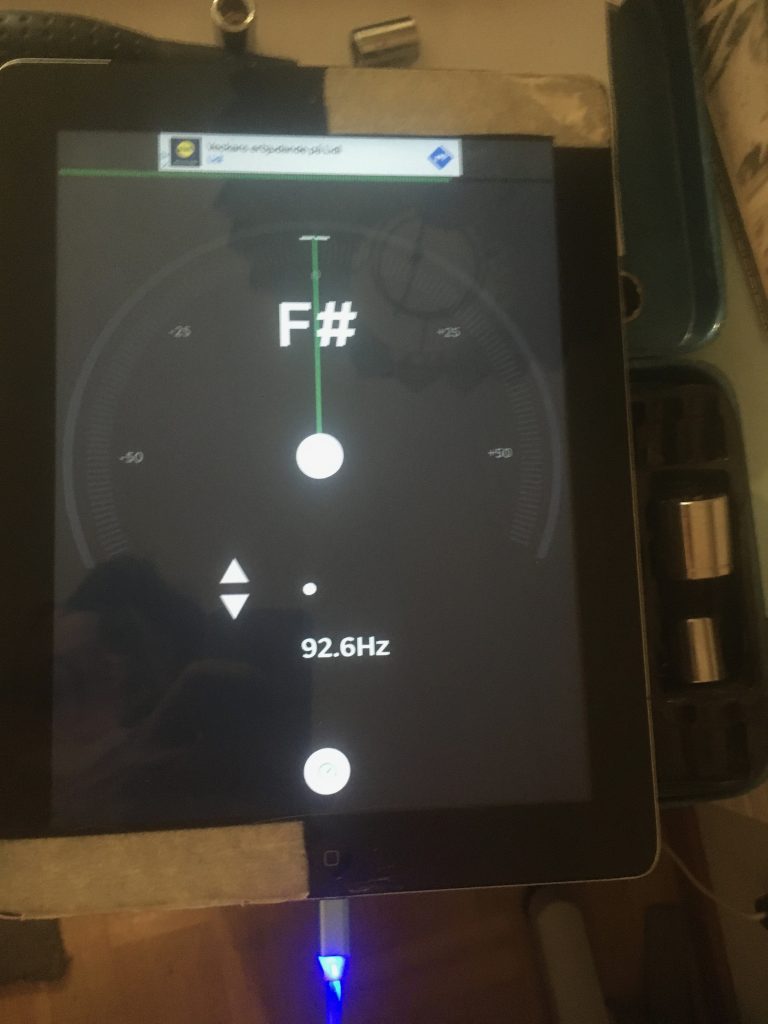 This time I used n-Track tuner App for its comprehensive way to display the information I need. I don't use the Frequency display (here showing 92.6Hz), only the green needle and the Key display (F#).
I also don't use my oscilloscope for tuning, it's difficult since readings will be fluctuating constantly and also it's hard to know what is a satisfactory value. It's not made for musical applications.
Method, general description
Setup
Tune Voice 1 OSC A
Tune Voice 1 OSC B
Tune Voice 2 OSC A
Tune Voice 2 OSC B
…and so on for all 5 voices
Method, full description
Setup
Open up your Prophet, set it in "service position" with the synth standing upright on the bottom of the chassis
Turn it on, press Preset button, so that it's unlit
The Tuning Program:

Pitch bend = Center
Mod wheel = 0
All modulation off

OSC A Waveform = Saw
OSC A Frequency = 12 semitone steps up from 0
OSC B Waveform = Saw
OSC B Frequency = 12 semitone steps up from 0
OSC B Keyboard = On

OSC A Mix = 10
OSC B Mix = 10
Noise Mix = 0

Filter frequency = 10
Filt Resonance = 0


Defeat Autotune: On the front panel, hold down Program Select Button 1 (PS1) and press PS7. This removes any compensation voltages added by the Autotune process.
To tune a voice on the Prophet 5 Rev 2 you need to be sure that you are working on the right voice. Turn down level trimmers for voice 2-5. Now only voice 1 is audible and only one out of five keys pressed will produce a sound.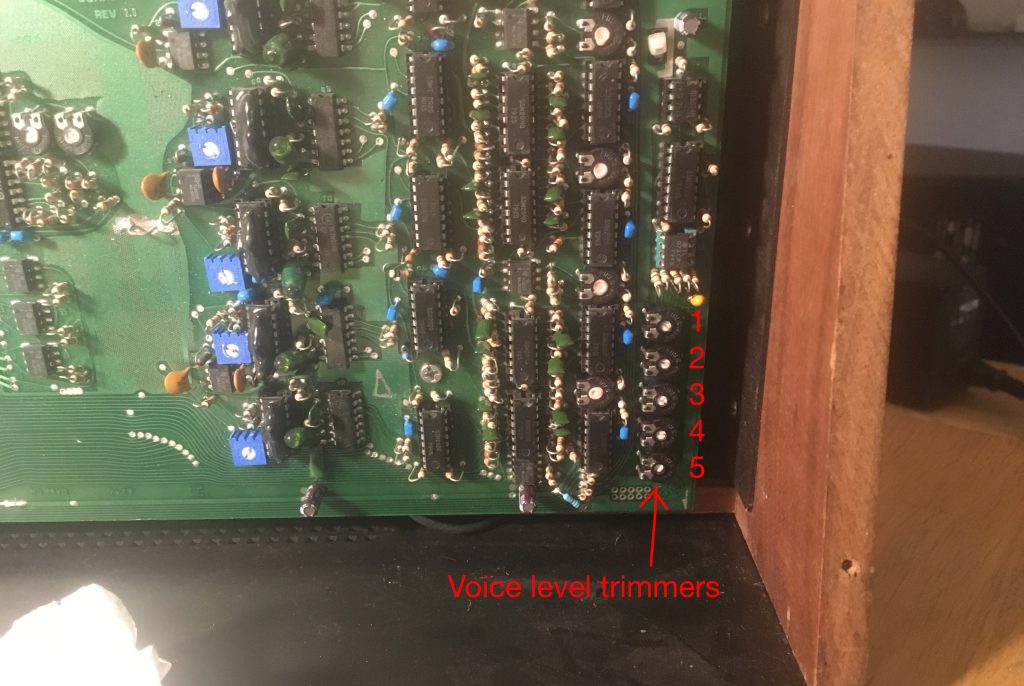 Press Unison. By doing this, all voices will play for every key pressed, but only the one whose Level trimmer is up can be heard
Tuning Voice 1 OSC A
Set OSC A Waveform = Saw and OSC B Waveform = None.
Make a mark on a piece of tape and put it under the Voice 1 OSC A trimmers.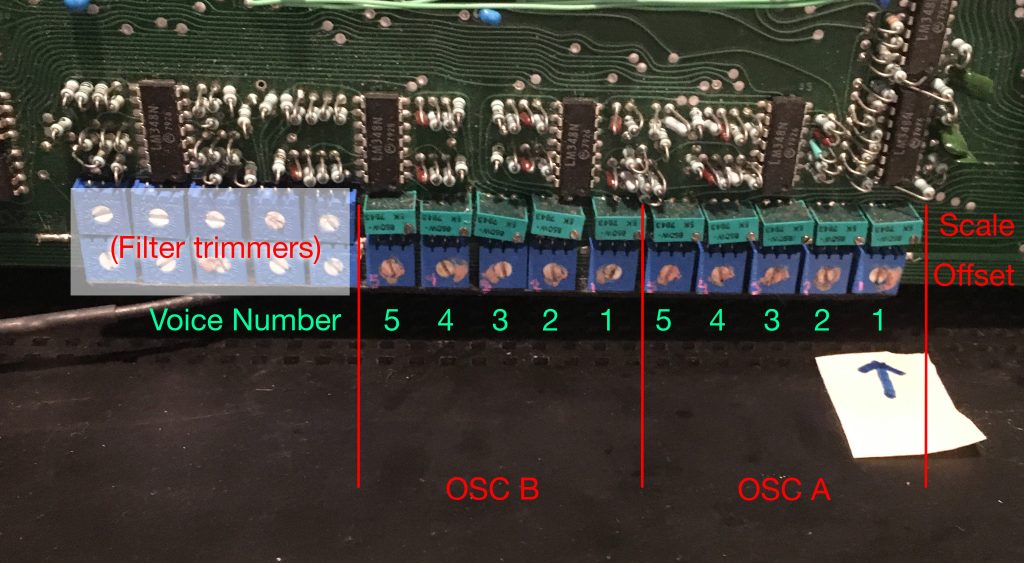 Play C4. Tune the oscillator to C with Voice 1 OSC A Offset trimmer.
Play C0. Tune the oscillator to C with Voice 1 OSC A Scale trimmer.
Repeat 3 and 4 until there's no improvement.
On the front of the Prophet, set OSC A Waveform = None, OSC B Waveform = Saw.
Move the indicator tape to Voice 1 OSC B. Remember to move the tape every time you decide to trim a new oscillator. It's easy to get lost and accidentally adjust the wrong trimmers.
Play C4. Tune the oscillator to C with Voice 1 OSC B Offset trimmer.
Play C0. Tune the oscillator to C with Voice 1 OSC B Scale trimmer.
Repeat 8 and 9 until there's no improvement.
On the front panel, set OSC A Waveform = Saw, OSC B Waveform = None.
In the low right of the Voice PCB, turn down Voice 1 Level trimmer. Turn up Voice 2 Level trimmer.
Repeat steps 3 to 12 for voice 2, 3, 4 and 5.
Turn up all the volume trimmers. You will have to adjust them for same level on all voices.
Done
Notes
This particular Rev 2 was not possible to tune at all, because the Pitch Bend wheel / potentiometer assembly was unstable. After moving the PB wheel it was impossible to get it back in the exact same position. This is because the Prophet lacked a deadband circuit. The deadband adds an area in the center of the wheel where it doesn't change voltage even if it's moved slightly. The Rev 2 service manual does show a deadband circuit, apparently it was added after this unit was built. So I developed a separate PCB with the necessary circuitry. It can also be used to
Transpose the keyboard voltage slightly, should there be a problem tuning the Prophet so that the Master Tune knob is centered.
Set the bend range. Default for Prophet-5 could be 2 or 5 semitones, depending on who you ask.
The Original Simplified Tuning Method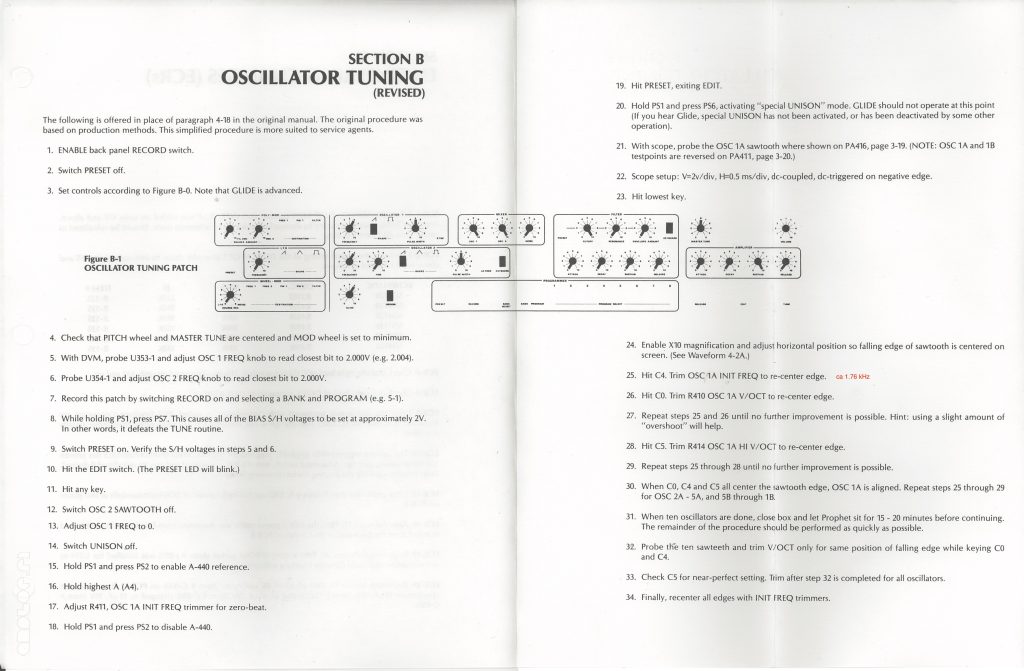 SCI's proposed method is probably great for those who tune a lot of Rev 2's. It takes some effort to understand what you are doing and why.